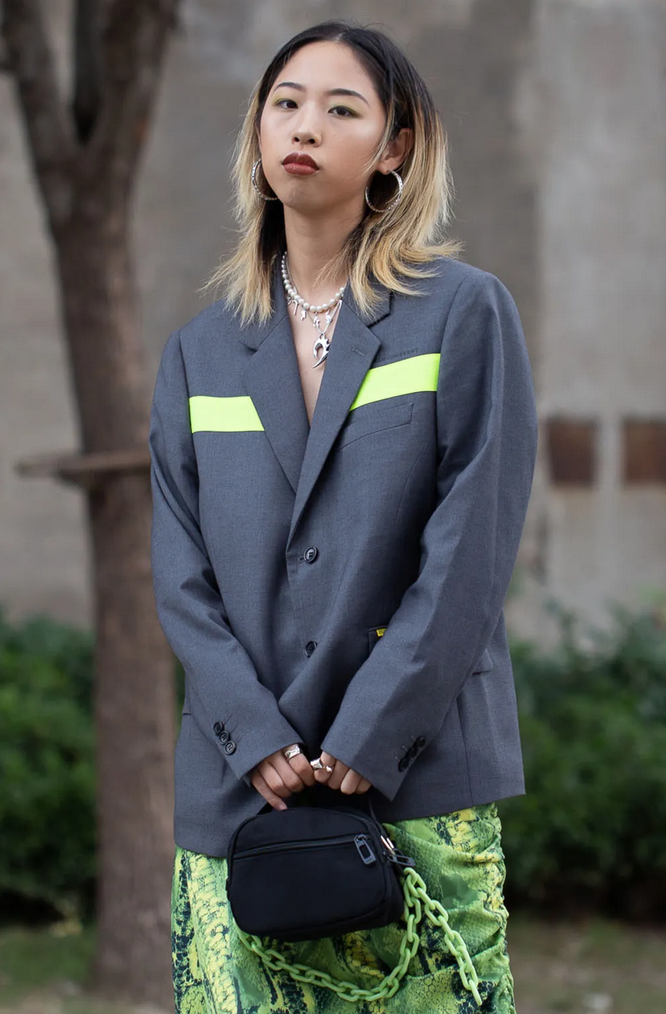 Optimistic, responsible, committed to individualism and concerned about the planet and the environment. These are common personality traits of today's Gen Z consumer in China, new research by Vogue Business shows.
Our survey of nearly 1,000 consumers aged from 18 to 24 in China, shows just over half (54 per cent) consider themselves to have a relatively clear and accurate level of knowledge about the concept of "sustainability". However, there are gaps between perception, attitude and behaviour when it comes to sustainable fashion. Among these younger shoppers, four personalities emerge: sustainable doers (27 per cent of respondents), sustainable shoppers (28 per cent), sustainable bystanders (33 per cent) and sustainable insulators (12 per cent).
The two biggest groups — sustainable doers and shoppers — reflect a growing awareness of environmental issues among young Chinese consumers. For brands, all four personality types present opportunities.
The sustainable doer
Just over a quarter (27 per cent) of Gen Z consumers in China say they are actively taking steps to reduce their impact on the environment through reducing their individual carbon footprint, recycling and consuming less. This is the category we've called sustainable doers. Many have returned from studying abroad, where they were influenced by the popularisation of sustainable issues in foreign countries and universities.
Having lived in Canada for six years, Su Yige, a lifestyle blogger who focuses on sustainability on Bilibili, age 21, also sees sustainability as a form of "money management". She buys only secondhand products, all year round. In her view, sustainability is about planning to cope with the planet's limited resources.
As confident consumers, sustainable doers are well-versed in the latest developments and trends in sustainability theory, with new eco-friendly materials and eye-catching initiatives from brands among their favourite topics of discussion. To them, sustainable consumption is both sensible and logical.
Thanks to their high level of awareness of sustainable values, sustainable doers are discerning and difficult to impress. They have no patience for greenwashing. Around two-thirds (63 per cent) of the sustainable doers to respond to Vogue Business's survey believe sustainability requires a holistic approach, which considers the impact and consequences of each link in the supply chain. Brands must not only tell a good story when it comes to sustainable action, but also communicate real feedback and results.
The sustainable shopper
Many Gen Zs have a trend-driven attitude to shopping for sustainable fashion, searching out the hottest eco-brands, from sustainable sports shoes and luxury bags made from plant-based leather; to biodegradable tableware and plant-based beverages. Sustainability is a "double whammy" — doing something for the environment and for the sake of "cool", says 21-year-old social media influencer Zeyi Ma.
This group, accounting for 28 per cent of those interviewed, is passionate about green travel, recycling and eco-friendly materials, and concerned about issues such as ecological conservation and animal protection. Around 45 per cent of them define sustainability as "protecting the environment and reducing waste".
Their passion for sustainability extends to the smallest details, and they are more willing to pay for green and environmental items, exhibiting a positive "buy it" attitude towards eco brands and products. However, 33 per cent remain wary of the myriad of sustainable labels on the market.
The sustainable bystander
Sustainable bystanders (33 per cent of those surveyed) are consumers who are highly aware of sustainable issues, but reluctant to put that awareness into practice through their shopping behaviour. This is perhaps linked to their naturally cautious personalities and to their sensitivity to value for money. Diven Lam, 22, a marketing student and model, points out that price is the most critical influence on sustainable bystanders' purchasing decisions — and many goods advertised as sustainable cost more.
There is an opportunity to change the buying habits of this category of consumer. The survey data shows that 67 per cent of sustainability bystanders acknowledge the need to support sustainable values and believe that changing consumer attitudes is a primary criterion for a sustainable industry. And 58 per cent of them have a mindset that is at a conceptual level, believing that sustainability adherents need to focus on macro social impacts first. This support for change does not translate into practical commitment in buying behaviour, with only 17 per cent of sustainable bystanders showing a preference for sustainable brands.
Their caution does not translate into regular shopping for consumer products either, even if many consider themselves potential consumers of sustainable products. Their attitude of inaction is reflected in the fact that they do not actively engage or advocate for sustainable activities. Perhaps significantly, though, they do not resent or reject those who do, suggesting a mindset open to change.
These consumers perceive themselves as objective and sensible. They want to know which brands are authentic and which are simply paying lip service to sustainable issues. They scrutinise brands' sustainable causes and campaigns, but remain extremely difficult to mobilise as consumers committed to sustainable spending behaviour.
Sustainable insulators
The individualistic character of China's Gen Z is still at play when it comes to environmental issues. Twelve per cent of Gen Z are simply not interested in environmental sustainability. They have a "you only live once" attitude to life and are hedonistic and experiential.
Only 13 per cent of sustainability insulators choose a brand based on its sustainability credentials. Products and marketing strategies that rely heavily on aspects of sustainability are not likely to be successful in converting insulators into customers.
Of the four consumer groups identified by the survey, sustainable insulators are the most emotional in their attitudes to consumption. They do not prioritise global environmental benefits and social impacts, preferring to exclude themselves from involvement in broader concerns. Almost all sustainable insulators define sustainable culture in simplistic terms as an avoidance of over-consumption. They show no interest in the detail of environmentally friendly materials, degradation, reuse and social benefits.
Key takeaway: Our analysis of Gen Z views on sustainable consumption suggests that marketing alone is not sufficient to shift consumer attitudes. The key to capturing hearts, minds and wallets rests in improved design, more affordable prices, more durable quality — and, as environmental awareness grows, in an authentic commitment to sustainable values.
Read on VogueBusiness