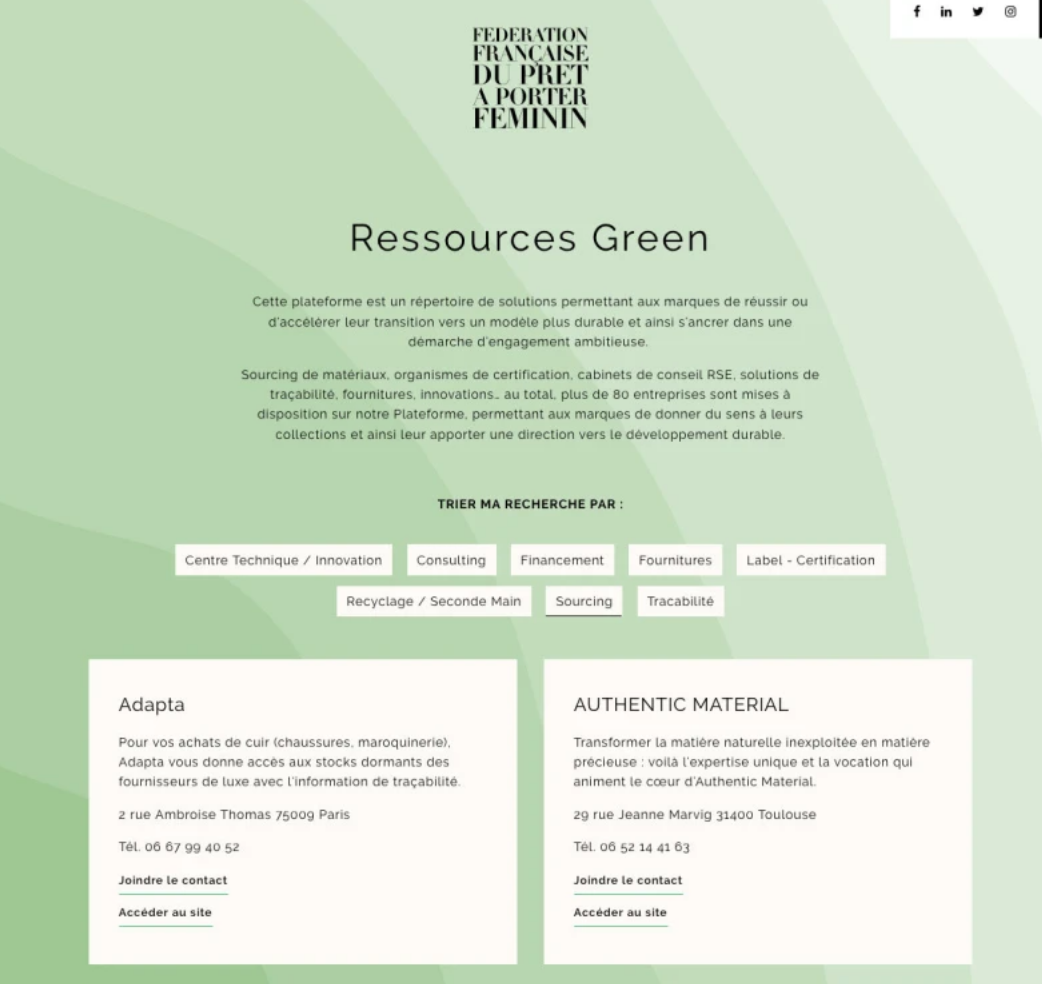 And new players have appeared in professions that did not exist or hardly existed a decade ago. Whereas a few years ago, progress on this theme was a struggle, the situation is much simpler today. A number of consultants and service providers have committed themselves in this field, such as Fairly Made, which supports brands in their more responsible sourcing projects, Adapta, which offers access to stocks of sleeping leather from luxury suppliers, or Green, the new subsidiary of the French company De Rigueur, which offers to carry out an inventory and define a CSR strategy for the brand. But it's not always easy for a manager, especially in a period of increasing urgency, to sort through and choose the option that corresponds to his or her project.
With the support of the Defi, a new guide called Green Resources, presented this Tuesday by the Women's Ready-to-Wear Federation, has been put together. "The vast majority of companies are now very aware of the issues at stake and are taking action on these themes," explains Adeline Dargent, from the Women's Ready-to-Wear Federation. We want to encourage these approaches and enable brands to accelerate their transition. We see that an ecosystem is forming and we had the idea of creating a map. The aim is to make available the service providers who are best able to support the brands. We set up a committee of experts to validate the profiles. We had 80 companies proposed and we kept around 50, whose services we think are really adapted to the sector".
The list of potential partners is not frozen and if solutions, in France or abroad, identified, later on, bring new opportunities for French brands, they will be able to join the platform which covers the themes of innovation, consulting, recycling, and second-hand goods, sourcing and traceability, financing, but also contacts regarding labeling and certification or service providers for supplies.
The future of fashion will be digital and eco-responsible. In this crisis, linked to the Covid-19 pandemic, these two axes clearly stand out as those considered essential by the brands in the sector. If more and more company managers are integrating eco-responsibility into their thinking, ethics, sustainability and even the circular economy (a theme that has become unavoidable in recent months) have imposed themselves on operational agendas. The fact remains that, although the ambitions are becoming a reality, the processes and paths to be followed to achieve the best are still very obscure for many.