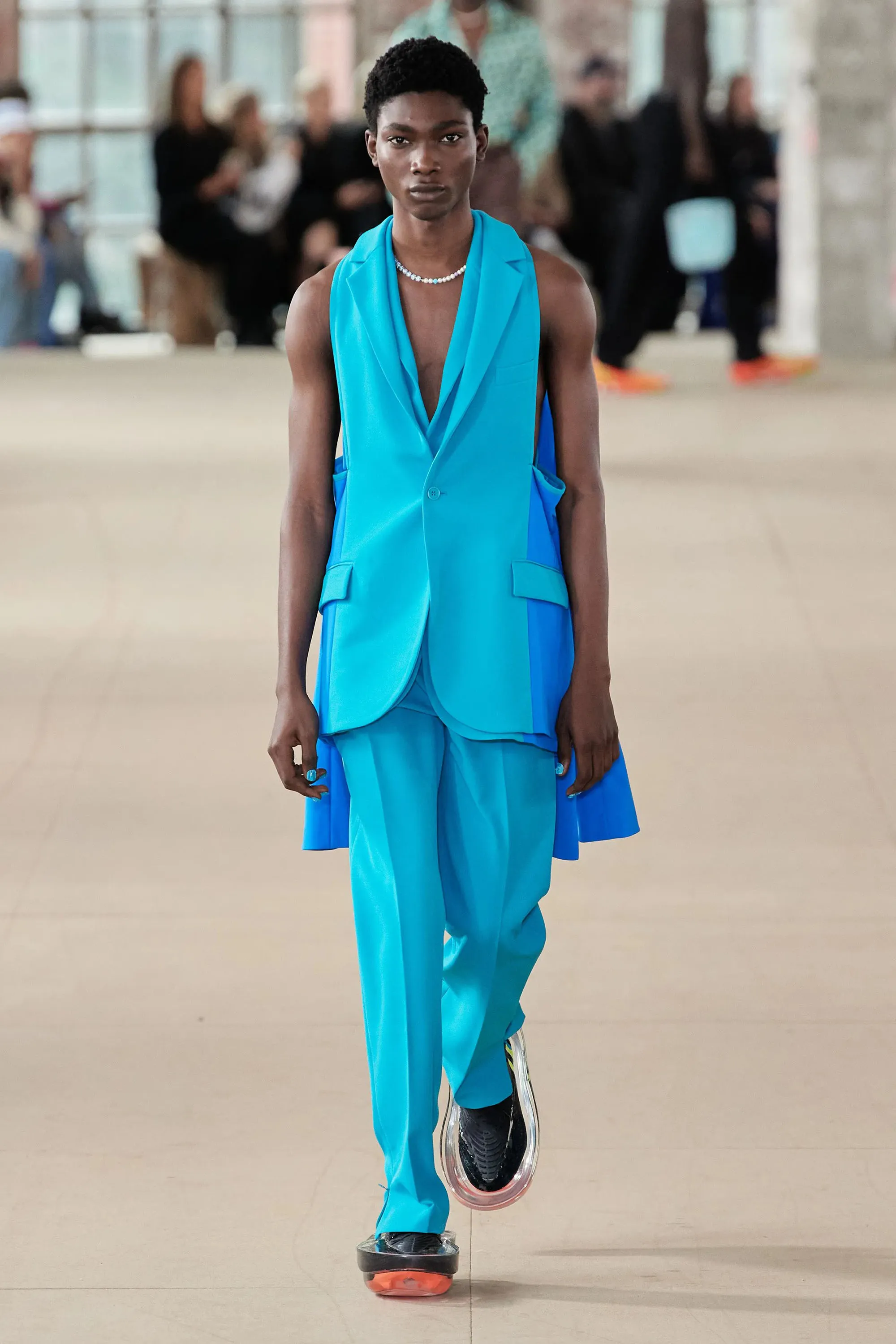 At Paris Fashion Week, rising genderless brand Botter presented shirts buttoned over the back of jackets, and sleeves that could be reworked around the body or head. Courrèges had jackets with internal straps that were able to be worn over the shoulder like a bag. And, in Coperni's now-viral show, jackets could be attached to dresses to add volume.
After years of being associated with functionality and outerwear, modular fashion is getting a new lease of life on the runway. Used as intended, modular garments could be a route to sustainability, accessibility and degrowth. However, without reducing the overall number of garments bought, sustainability experts say it risks being little more than a gimmick.
In the last year, durability has become a bigger part of the sustainable fashion conversations — underlined by the surge in repair services from brands and third parties such as The Restory and Sojo. Inflation and the looming threat of recession in several markets is also bringing cost-per-wear and versatility to the fore. Consumers want more for their money, and designers are tapping into that, says Katie Devlin, assistant fashion editor at trend forecasting agency Stylus. "With modularity, the idea is that instead of buying multiple garments, you can buy one garment with transformable or interchangeable qualities," she explains.
Proponents argue that modular fashion could be a fun, yet important, way to shift consumer behaviour. Earlier this year, New York designer Peter Do earned a finalist spot in the Woolmark Prize for his interpretation of modular fashion, exhibiting a fully modular collection where 22 Merino wool garments could be styled into 365 looks. Collars could be added, sleeves removed, and jacket linings draped into tops or skirts. "I wanted customers to have this idea that you can play with your clothes in a way," Do told Vogue Business when he presented the collection in April. "You're not constantly searching for new things because you can make what's already in your closet feel new."
However, this will require quite a mindset shift from both consumers and designers. Modular design is often still seen as functional, not fashionable, perhaps because of its roots in military kit. Military uniforms had to meet as many functions as possible with as few items as possible, each interacting with the others as a unified whole — an early iteration of the capsule wardrobe, explains professor Andrew Groves, director of the Westminster Menswear Archive, a UK-based organisation founded to develop the study of menswear design from a technical and functional point of view.
Modular design gained mainstream popularity through the outdoor gear industry, where trousers that zip into shorts, jackets with removable sleeves and fleece inserts, and hoods that fold away into a pocket at the neck are common features. The ethos has since been translated by several menswear brands, including Stone Island's Shadow Project (a series of interconnecting jackets and outer layers), and Acronym by Errolson Hugh and Michaela Sachenbacher (which pioneered jackets that turn into cross-body bags, and removable hoods that transform into bucket hats).
➔ Read the full article on Vogue Business