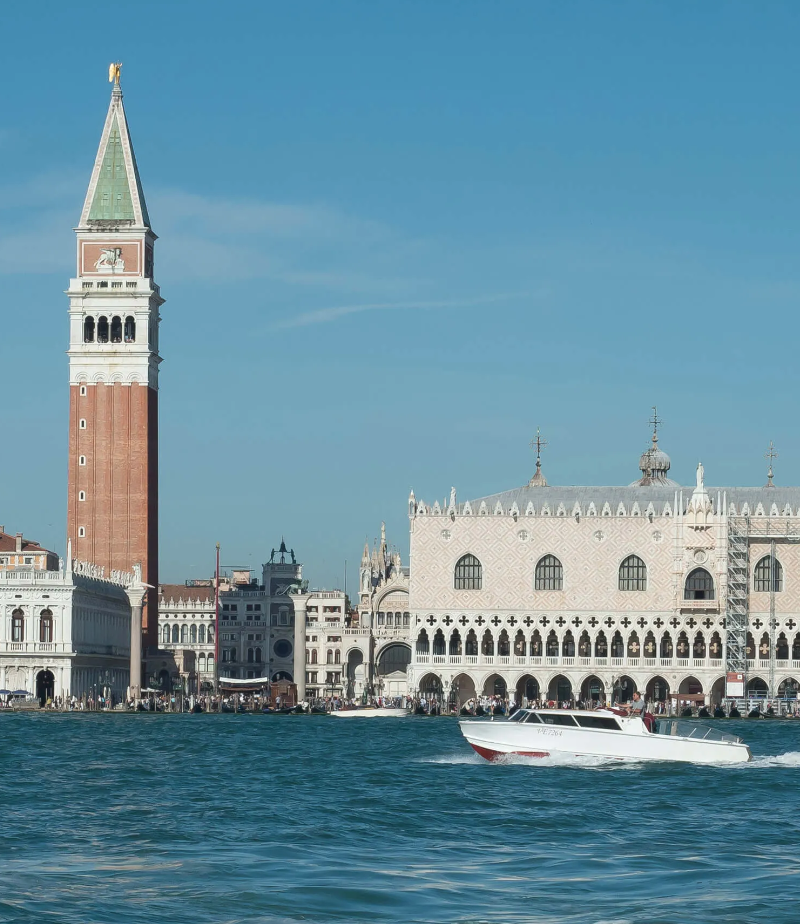 Last week, on the island of San Giorgio Maggiore, Italian fashion industry leaders gathered to discuss the challenges of making sustainability a reality at the first Venice Sustainable Fashion Forum, a two-day event with C-suite executives from megawatt brands including Fendi and Prada as well as representatives from small, family-run suppliers. The goal? To create a clear roadmap for the notoriously traditional and insular industry; overhaul its supply chain according to sustainable values; and become a world leader in environmental and social impact.
The event was co-hosted by Camera Nazionale della Moda Italiana (CNMI), textile association Sistema Moda Italia (SMI), trade group Confindustria Venezia Area Metropolitana di Venezia e Rovigo and think-tank and management consulting company The European House – Ambrosetti. The consensus between delegates and organisers was clear: social impact should sit alongside environmental impact; supply chains should be shortened and reshored where possible to improve data transparency and mitigate the impact of global challenges including Covid-19 and Brexit; and certifications should be standardised to stop confusing consumers and investors alike.
In a report published in line with the event, Ambrosetti outlined six proposals for a "just transition" (achieving sustainability while protecting workers' rights). To get ahead of voluntary and mandatory regulations, build multi-stakeholder task forces led by national governments; speed up change by forming alliances throughout the supply chain; measure policy impact by enforcing a minimum data standard for all; promote a positive cultural shift so mindsets align with business change; and position Italian and French luxury companies as an international sustainability vanguard. There was no timeline attached to the proposals.
The significance of hosting the event in Venice — which is hoping to become an international city of sustainability as it reckons with rising sea levels — was not lost on attendees. "Venice is a symbol of what beauty we can create and what we can destroy," says CNMI chairman Carlo Capas.
For Orsola de Castro, founder of Fashion Revolution and Estethica, and a Venice native, the area embodies the unique challenges and opportunities of Italian fashion. "The industriousness of the locals made a culture out of this industry. It is insular because it is confined to an area and a mentality, and because they are protective of the businesses they built, many of which have been around for three generations and are now thriving or dying. It's a whole structure potentially looking at its own death."
Making 'Made in Italy' more sustainable
Ambrosetti's report includes an analysis of the top 15 luxury brands in France and Italy, nine of which say they have 90 per cent of production in Europe, and six of which do not make public statements about their supply chain. Those claiming the 'Made in Italy' label rely heavily on vertically integrated factories and a web of small, often family-run, local suppliers. For the brands that do produce or source from abroad, Ambrosetti advises reshoring or nearshoring, to mitigate the challenges posed by Brexit, rising energy prices as a result of war in Ukraine, ongoing Covid-19 disruption in China and general supply chain delays.
"This is a highly fragmented industry," says Flavio Sciuccati, senior partner and director of the global fashion unit at Ambrosetti. "In Italy, what normally happens is that everything changes so that nothing changes — we would like to see this with sustainability."
The Italian fashion industry is made up of many small suppliers, but the responsibility for investing in change should lie with the large brands they work for, adds Ambrosetti's head of sustainability practices Carlo Cici. "Luxury brands should take advantage of their excessive margins — often double their suppliers' — to start acting sustainably."
Attendees and speakers shared some signs of progress, although there is still much to be done. OTB Group founder and president Renzo Rosso said he had sent all first and second level managers back to university in Milan to study sustainability and prompt a company-wide mindset shift. Elsewhere, OTB is investing in its suppliers — though not acquiring them wholly as many French counterparts have done. "If you buy it up, the craftspeople will leave and you remain with nothing, but if they have a stake, they will be incentivised to stay and make it work," he says.
Fendi CEO Serge Brunschwig says the majority of the brand's products are produced entirely in Italy, with the only exceptions being Swiss watches and French porcelain and high jewellery. In a bid to preserve the ateliers making Fendi's designs a reality, the company developed the Hand in Hand project, which called upon 20 ateliers from Veneto to Sardinia — one in each region of Italy — to interpret the Baguette bag by applying local crafts. "How do we show the next generation the beauty of these jobs, and make parents agree for their children to pursue them?" he asks. Fendi is inviting schools to visit its factories — two new ones have opened this month, in Capannuccia and Fermo, in Italy – and is participating in Italian luxury growth foundation Altagamma's Adopt a School initiative. "This is how a big brand can help artisans."
Social impact was a running theme throughout the conference. However, it focused more on protecting local livelihoods than diversity and inclusion, says de Castro, which she attributes to a general lack of diversity across Italy. That lack of diversity was also evident across panellists and attendees. Capasa says CNMI invited a much broader range of people than were able to attend at short notice, and he hopes next year's edition will reflect the global industry more broadly. He also points to the diversity and inclusion manifesto CNMI introduced in 2019 as evidence of its intentions. The 10 key principles include "talent without prejudices", "fashion supports through listening" and "walking the talk". "This has been adopted by all of our members, because we realised that we had to be more conscious and set up something clear and measurable instead of taking diversity for granted," he explains. "We know from nature that diversity is good. It's a value in a company to have different people with different ideas."
New partnerships to scale change
The conference was laced with new alliances hoping to spur systemic change.
OTB Group's Rosso presented Re.Crea Consortium, a voluntary initiative to help brands manage end-of-life textiles and channel unwanted products into recycling and reuse programmes. Founding members include OTB Group, Max Mara Fashion Group, Dolce & Gabbana, Moncler Group, Prada Group and Ermenegildo Zegna Group, with support from CNMI. The project is a direct response to the extended producer responsibility (EPR) directive proposed by the EU earlier this year, which would place the responsibility of managing textile waste on the brands producing garments instead of the consumers wearing them. Re.Crea hopes to find uses for textile waste through partnerships with New York's Fashion Institute of Technology (FIT), the "Silk Lab" research centre at Tufts University in Boston, and the Center for Collective Intelligence at Massachusetts Institute of Technology (MIT).
Rosso, who spearheaded the initiative, says OTB Group started buying back old products last year to upcycle into limited edition products and resell in its stores, and is excited to find more scalable solutions through Re.Crea. "This is something we need to do and something we want to put our names to," he says.
SMI presented its own consortium, Retex.Green, specifically for the Made in Italy supply chain to stay ahead of incoming EU legislation. The consortium focuses on recycling pre- and post-consumer textile waste through a network of external recycling companies.
"While these efforts are needed, more emphasis should be on activities to eliminate waste from the outset," says Marilyn Martinez, project manager for the Ellen MacArthur Foundation's fashion initiative. "Shifting the focus from 'downstream' activities towards 'upstream' activities will be a significant step forwards."
Read more on Vogue Business