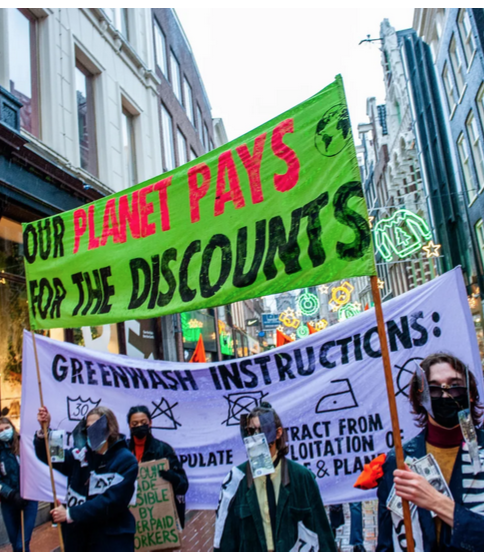 While those efforts are not enough in either speed or scale, some say that 2022 has been a period of foundation-laying and many efforts from the year are starting points for progress that will now be scaled. The main areas they have their eyes on include materials, resale and other so-called circular services, agriculture and biodiversity — as well as the growing push for industry collaboration, specifically in terms of climate action.
Still, there's a long way to go. "It's been a very meaningful year in terms of commitment and action. However, the equation doesn't add up in terms of numbers," says Zaki Saleemi, vice president of strategy, sustainability and innovation at denim manufacturer Crescent Bahuman in Pakistan, who says that while he's impressed with the goals that brands are setting, he still doesn't see them willing to make the investments necessary to achieve them. "Everyone is just talking about price, price, price."
Here, we map out the progress made this year across key environmental sustainability categories and what needs to happen next.
Energy: Targets were set, but funding fell short
The boost in initiatives targeting fashion's emissions this year ranged from more brands setting Science Based Targets to prioritising direct supply chain emissions — focusing on carbon insetting rather than offsetting, as Ganni committed explicitly to do — to cross-industry collaboration.
The latter is where experts see potential for real movement. From the Fashion Pact's Collective Virtual Power Purchase Agreement announced this month to a new fund, announced by the Apparel Impact Institute (AII) in June, aimed at shrinking the industry's shortfall when it comes to financing the ability to meet its climate commitments, the industry finally has some evidence to back up claims that it's committed to decarbonisation. That's an improvement over last year, when there was little sign of meaningful investment despite fashion being $1 trillion short, according to a report from AII and Fashion for Good, of the total investment needed to decarbonise by 2050.
"More than ever, we are convinced we have to work with a collaborative approach," says Marie-Claire Daveu, chief sustainability officer and head of international institutional affairs at Gucci parent company Kering. "If you don't have a collaborative approach, it's impossible to be successful."
Overproduction: Still the big picture problem
A successful transition away from fossil fuels cannot solve the industry's more existential problem of waste and overproduction. While it's a growing focus for activists and many smaller brands and designers, it remains off the radar of the industry's most dominant players.
"The conversation around reducing fashion's social and environmental impacts continues to be dominated by new initiatives, from carbon offset sweaters to mushroom leather bags, all offering so-called 'guilt-free' alternatives," says August Bard Bringéus, co-founder of Swedish brand Asket. Those are distractions from the more fundamental problem of overproduction and overconsumption, he adds. "As long as the pace of apparel production continues to exceed the sum of collective efforts to drive better practices, the industry's progress will continue to slip backwards."
Some find hope in the steps fashion is taking toward more reuse, repair and recycling. Like with the growing focus on renewable energy, however, there's progress amid simultaneous stagnation. The proliferation of resale and repair services in particular is being used to add onto brands' existing revenue streams and not to find substitutions for new product sales or shrink existing operations.
"I noted an increased focus on carbon measurement, materials innovation and meaningful investment into fibre-to-fibre tech," says Kristy Caylor, CEO of For Days, a US brand prioritising circularity. "However, I see outsized claims and overall greenwashing everywhere." Whether it's claims about material innovation, supply chain reform or circularity, she says, "the information presented to customers is typically inaccurate and/or incomplete. Vegan leather is not necessarily sustainable; resale alone is not circularity; and we can't fibre-to-fibre recycle all clothing today."
Agriculture and biodiversity: On the map
Last year, there was so much hype around regenerative agriculture that proponents worried it would be watered down as it scaled, and its real potential would be lost. However, several initiatives this year restored some confidence in the concept and its promise for helping fashion reduce its impacts.
The California Cotton & Climate Coalition, announced in September with backing from apparel brands Reformation, Outerknown, Mate the Label and Carhartt and organic homewares company Coyuchi, helps brands source cotton directly from farmers who have transitioned to "climate beneficial practices". LVMH is investing in regenerative agriculture as part of its Life 360 plan; and Kering, which launched a fund in 2021 to invest in regenerative agriculture, expanded its work in this area and announced a new climate fund this month in partnership with French cosmetics retailer L'Occitane to further promote regenerative farming as part of a larger push for biodiversity conservation.
"It's buzzy, it's still very Western-defined, and there are questions around how to put some weight behind [these efforts], but you saw, at scale, brands make these up-front investments — farm and forest-level investments, which frankly were unprecedented," says Kathleen Talbot, chief sustainability officer at Reformation. "You saw large and small players invest and integrate that into their strategies."
While regenerative agriculture is often discussed as a climate strategy, the science is not especially clear on how much potential for carbon sequestration it actually delivers. Its benefits for the environment as a whole, though, are indisputable — it improves soil biodiversity, increases water retention and reduces chemical pollution, among other benefits, all issues that have been largely overlooked in contrast to fashion's "tunnel vision" focus on carbon emissions.
Biodiversity loss in general skyrocketed this year from being a niche topic to one of mainstream concern for the industry. Nowhere was that more clear than at COP15, the UN Biodiversity Conference that ended this week in a historic global conservation agreement — and where fashion had a stronger and more active presence than it's ever had at a global biodiversity event before.
Greenwashing crackdowns: A breakthrough year
If there's one area that is transformed this year compared to last, it's action from regulators
Given its size and reach around the world, fashion is one of the least regulated industries. But policymakers have noticed, and the proliferation of misleading claims made by fashion brands is a key area they're taking swift action on.
After the Norwegian Consumer Authority warned Swedish fashion giant H&M and Norwegian outdoor clothing brand Norrøna that their use of Higg Index data was likely to violate the country's Marketing Control Act, the Sustainable Apparel Coalition, the organisation behind the Higg MSI, launched a review and began to overhaul the methodology behind what has become the industry's go-to tool for measuring sustainability. Lawsuits, against H&M in particular, also accused fashion of making misleading claims about the environmental integrity of products (in one case, H&M said discrepancies in its sustainability claims resulted from technical issues; in more recent cases that accuse the company of false and misleading marketing, H&M has said it provides evidence to back up product claims on various websites and in publicly available reports).
With more attention than ever being paid to greenwashing by brands, and the actual consequences it has on the environment — by encouraging people to buy products they think are more eco-friendly than they are, for instance — 2022 will probably go down as the year that legislators started calling out greenwashing as a problem and that fashion started to feel the effects.
The EU is also leading global efforts to require products and packaging to be less damaging. In early December alone, a new law was announced to prevent imports linked to deforestation, while a separate series of proposals on packaging outlined a shift to a more circular, and therefore less wasteful, model. "We need goods, not waste," EU commissioner for environment Virginijus Sinkevičius — who also led the EU's negotiating team at the COP15 talks on biodiversity in Montreal and has been active in other policy discussions that have the potential to impact fashion as well — said at the press briefing.
What it all could add up to is fundamental transformation in place of incremental progress — and that can be daunting but it's not impossible, at least according to those focused on a healthier future and what "new societies" might look like. The few signs that fashion showed this year of a growing readiness to serve as a role model for sustainable living — although there weren't many, and they were still missing from some of the industry's key moments — are a source of optimism for some.
"I am really encouraged by makers who think in revolutionary ways about the role of fashion in new societies: investigating truly regenerative fibres and local clothing systems; introducing equitable ways of sharing resources and skills; working proactively with stakeholders in the Global South; and, most significantly of all, going back to the earth, the source of all life," says Bel Jacobs, a former fashion editor in the UK and co-founder of the Islington Climate Centre. "In the next few years, fast fashion will continue to tighten its grip, and the number of incremental projects to address the climate will increase — but it's a last hurrah. We, in the Global North, are about to enter a time of profound climate and system disruption, with no end in sight."
Read more on Vogue Business