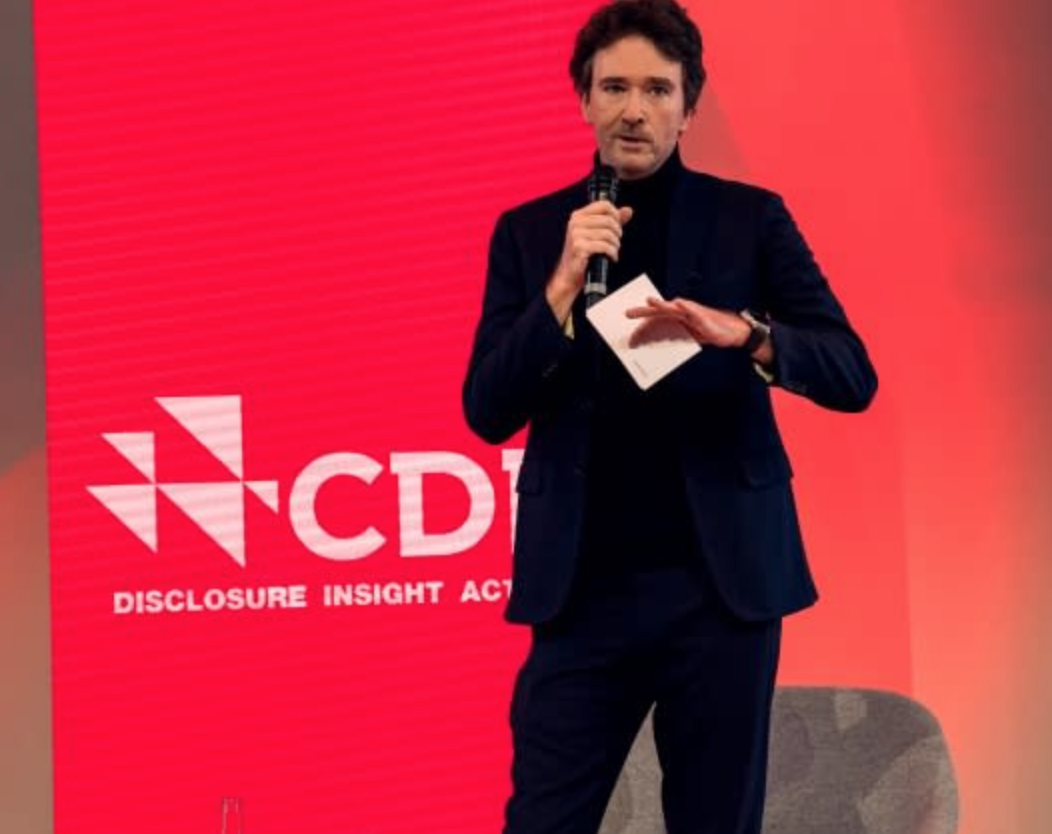 The Berlin-based nonprofit Carbon Disclosure Project assesses environmental impact in a variety of sectors. The group brought together business executives, bankers and government leaders for an afternoon of panel debates and discussions, before an evening awards ceremony beneath the dome of the Frank Gehry-designed art museum.
Taking the stage were LVMH Moët Hennessy Louis Vuitton head of image and environment Antoine Arnault; L'Oréal deputy chief executive officer Barbara Lavernos, and Nivea parent company Beiersdorf AG CEO Vincent Warnery from the fashion and beauty sectors.
Explorer and environmental activist Bertrand Piccard spoke to the engaged crowd in a bit of a "rock star" moment, as well as European Securities and Markets Authority chair Verena Ross; European Investment Bank president Werner Hoyer, and the mayors of Oslo, Norway and Porto, Portugal, alongside executives from banking and finance, construction, shipping, paper production and packaging sectors.
"This is a perfect opportunity to show that sustainability is everyone's business. We — and by 'we' I mean politics, companies, citizens — all have to act and act quickly given the emergency on the environmental issues. We need each other, we need to share good practices, we need also to see what others can bring to us. Which is why LVMH was participating in the last COPs, to be where the decisions are taken and make sure that we take strong commitments in line with our strategy," Arnault told WWD of interacting with the CDP's wide-ranging guest list.
The event was unique in its openness, as speakers addressed the real complexities of a slew of regulations that are geared to the European market and sometimes derided the slow pace of change. During coffee breaks, the chatter among the attendees was about supply chains, regulation and technical topics like carbon accounting or implementation of digital product passports.
"It's always interesting to interact with other key stakeholders, regardless of the sector you are in. Luxury is not a very emitting industry but we deeply rely on nature to create amazing products. We all share the same concerns, be it climate, biodiversity or water protection," Arnault said.
"We all have in common the will to protect natural resources and reduce our impact on the planet. We also sometimes partner with other companies when it allows us to act faster and better. This is for example the case with the 'Eco Beauty Score' initiative, now gathering 64 companies, to better explain the environmental performance of beauty products to the consumers," he added.
The 'Eco Beauty Score' was a hot topic, with Beiersdorf's Warnery highlighting the industry's need to act on its commitment to combat greenwashing.
The consortium was launched in 2022 with the aim of bringing a brand-agnostic sustainability scoring system to consumers. The working groups are still trying to come to an agreement on those metrics and he said his top goal for the year was getting the companies on the same page.
"We don't want to bulls–t consumers," said a very frank Warnery. "The fact that we are able to work together is a miracle, but we still have to walk the talk. We are working on data and aligning on [metrics]." The group has yet to agree on which categories to score first, and he hopes those agreements can be reached by the second half of the year.
Warnery also addressed the coming EU anti-deforestation regulation that will prevent companies from selling or transiting products sourced from materials linked with deforestation and forest degradation in Europe. Anticipating that law and the "long arm of the EU," he said the company is already working on sourcing for its factories in Brazil to ensure they do not use raw materials that come from impacted areas. It's a task easier said than done, he noted.
"We absolutely support this, and have to make it happen in every factory and every raw material that we are buying across the world, which is very easy to do in Europe and much more complicated in the rest of the world," Warnery said.
The company is buying satellites and using drones to watch the regions where it is sourcing from in Brazil and Indonesia, he said.
L'Oréal's Lavernos emphasized that though beauty brands are competitors on the market, they need to cooperate on sourcing raw materials. "If we are not joining forces it will never happen and it will put our own ecosystem of suppliers in difficulty," she said, framing this kind of competition as "stupid" in this day and age.
Lavernos said the beauty giant has implemented a policy of "flat land occupancy" by 2030, meaning they won't continue to increase their sourcing farmland over 2019 levels. This will be possible because of the company's increased emphasis on science and tech.
The company has invested in 12 start-ups, including research and development in micro-algae growth and fermentation science, within the last year. These types of projects will allow lab growth of key ingredients, instead of needing to "plunder nature" with intensive farming practices, she said.
Closing her remarks, she said her top goal for the year is acknowledging and working on the impact of our digital presence and virtual world. Data storage "is intangible, but it is creating C02, biodiversity damage and water scarcity like hell."
L'Oréal is looking for new solutions and partners to reduce this impact, she said.
Other hot topics included CEO pay, with many stating from the stage that their compensation is now tied to environmental targets and climate goals instead of shareholder returns, and bankers arguing that global stock markets should require listed companies to meet minimum disclosure requirements. There was even talk of how to reframe gross domestic product measurements with social and health metrics instead of profit, as well as the dreaded word of "degrowth" presented as a viable concept.
Challenging the norms and new ideas of how to change business models were all on the table.
Porto's Rui Moreira said wandering around the streets of Paris earlier in the day he noted that the price of locally made croissants is on par with a T-shirt made in Indonesia. While corporations are now dealing with the supply side, ultimately change is created by consumer demand.
"The public is still not aware and there is no indication of awareness of the impact of everything he or she consumes has on the environment," he said. New EU labeling laws will require companies to outline supply chains but need to go further. "[It's] a description of the contents and we don't know how much it costs in terms of the planet and in terms of resources that are not renewable."
Onstage, Arnault highlighted that Dior's Kim Jones recently collaborated with the charity Parley for the Oceans to repurpose ocean plastics in his collection, and that the company will continue to go further on the high end.
"Our role is also to change the definition and the expression of beauty to make sure that we embark our customers but also the public with us. An upcycled collection made from previous products can be as desirable as a whole new collection as long as we remain creative," he told WWD, citing other projects at Louis Vuitton and Loewe. "More will follow, it will be made with charities when needed but also through our own projects. It is just the beginning."
Read more on AOL / WWD