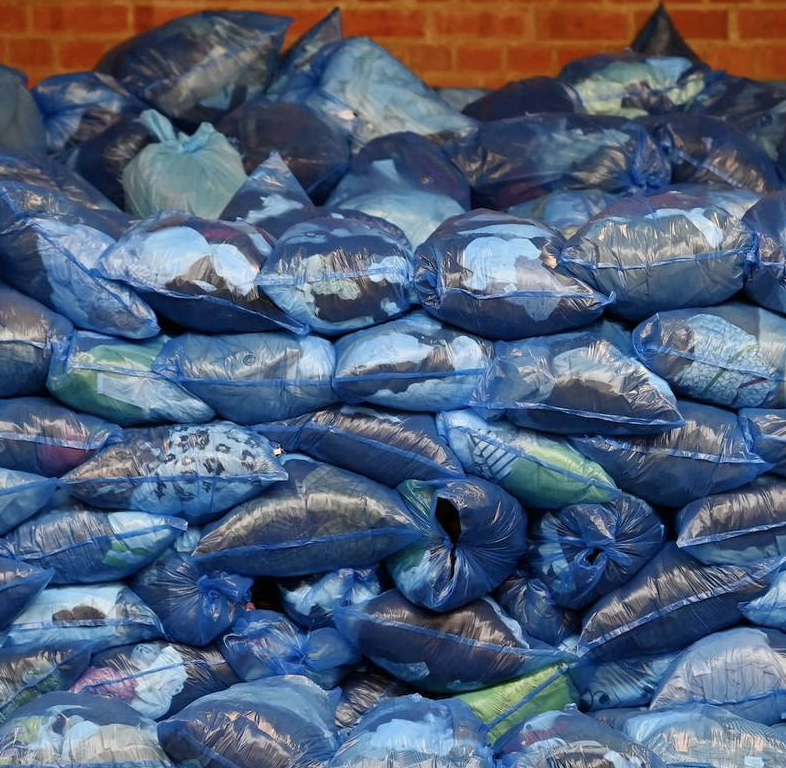 Every year, consumers around the world discard millions of tonnes of worn T-shirts, jeans and dresses — and the volumes are only growing.
Much of this — nearly 80 percent in the case of the European Union — goes directly in the trash, mixing with other forms of waste and often winding up in landfills and incinerators. The rest floods through donation bins and textile collection points into a thriving, but controversial export-oriented secondary market. With little quality oversight, large volumes of old clothes simply end up in dump sites, according to advocacy groups.
Now, large consumer markets like the European Union and California are looking to crackdown on this problem by introducing "extended producer responsibility" or EPR schemes that would make brands pay to cover the cost of managing textile waste.
But policymakers are designing regulations for a collection, sorting and recycling system that doesn't exist yet at the scale required. And when a piece of clothing should be treated as trash and when it should still be seen as a valuable commodity that can be reused and resold is a tricky question.
How Does The System Work at the Moment?
A number of countries in Europe have introduced EPR schemes for textiles this year, anticipating wider EU-level regulation. But France has had a policy in place for more than a decade.
Last year, the country collected more than 260,000 tonnes of old clothes, shoes and household linen, according to Refashion, the organisation charged with overseeing the French scheme. It paid out €22.5 million ($23.7 million) to contracted sorting centres that separate products considered appropriate for resale from those destined for the shredder for mechanical recycling.
Nearly all of the sorted products deemed appropriate for resale were shipped abroad, becoming part of an opaque trade in secondhand clothes that advocacy groups say have turned receiving countries into dumping grounds for fast fashion. Roughly a third of the textiles collected through the French EPR scheme end up in Africa.
The heavy reliance on the mass export of textiles with little control over quality or the ultimate fate of the garments is a shortcoming of the system that should be addressed in legislation being discussed at a European level, according to a position paper published last month by Paris Good Fashion. The French association of more than 100 industry actors includes major fashion companies like Chanel, Kering and LVMH, trade group the Fédération de la Haute Couture et de la Mode and nonprofits like the Ellen MacArthur Foundation.
"We thought it good to highlight the loopholes in the French system," said Dounia Wone, chief sustainability officer at resale site Vestiaire Collective, which has spearheaded the research and is leading advocacy in Brussels on the issue.
The challenge is that the infrastructure to recycle textiles globally is limited, while the volume of waste is growing and its quality deteriorating. EU efforts to manage textile waste should include strict and consistent rules to ensure any clothes deemed fit for export meet quality standards, require greater transparency and controls to prevent waste from simply being sent abroad and ensure exports only go to countries that consent to receive them with demonstrated capacity to market or process used garments, the position paper said.
Refashion said it agrees with the need to reinforce audits. The organisation is preparing its own position paper on the topic.
Why Is This in Focus Now?
Tackling textile waste is a big focus for policymakers in the EU, which has identified the sector as among the most polluting in the bloc. Already agreed rules mean member countries will need to have systems in place to collect textile waste by 2025. In July, the European Commission laid out its proposal for an EPR scheme, including rules to manage textile waste so that re-use is prioritised and more textiles are recycled. Last month the European parliament put forward a first draft of amendments, the next step in moving the proposal towards final agreement.
Meanwhile California, the US state that on its own counts among the world's largest economies, is consulting on a proposal for its own EPR bill.
When and how discarded textiles are considered waste is a technical, but important detail. Products classified as destined for reuse or resale are subject to less stringent oversight and have clearer value, particularly in the absence of mature recycling infrastructure. Policymakers need to thread a needle between ensuring that products suitable for re-use reach the appropriate markets, while controlling the flow of waste in a way that enables the development of recycling infrastructure and closes existing loopholes.
"The devil is in those details ," said Rachel Kibbe, executive director at Circular Services Group, a consulting and advocacy firm leading industry efforts to shape EPR policy in California. "The goal overall is to have less 'quote unquote' waste. But what is waste?"
While the Californian bill is still being shaped, many of these considerations feature in the EU's existing proposal.
What About Overproduction?
A single piece of legislation is never going to be a silver bullet for fashion's waste problem.
EPR schemes are intended to create mechanisms to finance collecting, sorting and recycling textiles, but advocacy groups say they need to be accompanied by additional steps to ensure products reaching the market are long-lived enough to be suitable for reuse and are designed so they can be recycled — both topics on Europe's roadmap for regulating the textile industry.
The fees associated with EPR schemes could also incentivise companies to change the way they produce. In its draft proposal, the European Commission estimated the average cost to collect and manage clothing waste in the bloc would amount to 12 cents per item, but the cost is expected to vary depending on material and composition of specific items so that products that are more difficult to recycle (for instance, those made of blended fibres or with lots buttons or zips) are expected to command a higher fee.
Still, ensuring textiles are collected, sorted and responsibly disposed of is just one piece of a broader challenge for the industry. "It doesn't answer the bigger issue, which is the volumes," said Wone
Read more – BOF
Paris Good Fashion x Vestiaire Collective – Position Paper – Access