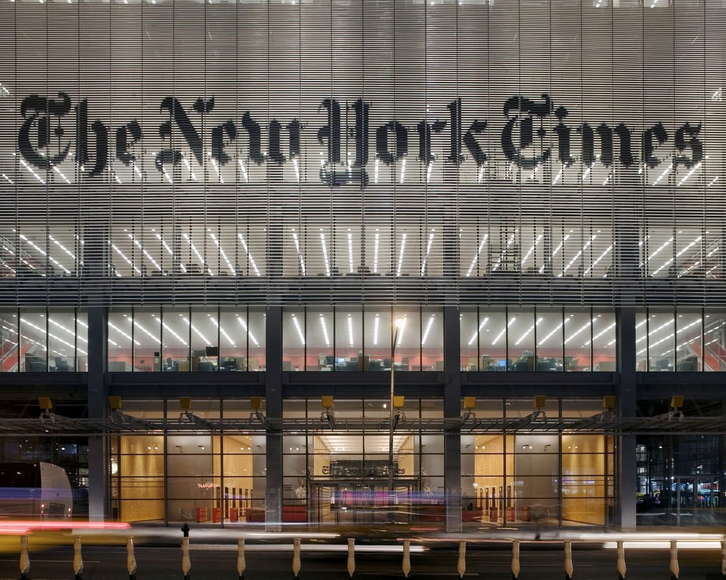 Producing too many clothes is no longer a good look. That was the conclusion of a task force of fashion industry forces who gathered last week at the DealBook Summit in New York City.
The group was asked by Vanessa Friedman, The New York Times fashion director and chief fashion critic, who moderated the discussion, to take on the oxymoron of sustainable fashion.
"At this point, it's not about the chemicals," Ms. Friedman said. "It's about the sheer amount of stuff that we produce, that we buy and that we waste."
The experts, whose work touches upon several aspects of the industry, agreed: Things must change, and it is no longer possible to wait to see who will step up to lead the transformation. Every part of the chain needs to participate, from investors to designers to consumers, said Ms. Friedman. And education, legislation and an evolution of the business model away from double-digit growth are essential.
According to the World Bank, if the fashion industry continues on its growth trajectory, world clothing sales could increase 65 percent by 2030. Contrast that, Ms. Friedman said, with the finding by the Hot or Cool Institute, a Berlin-based sustainability research group, that meeting fashion industry environmental goals would require consumers to buy only five new pieces a year.
Efforts now to promote sustainability include using less-impactful fabrics, such as recycled cashmere and lab-grown leather, and promoting what's known as circularity by doing things like buying designer resale, a segment estimated to be a $100 billion to $120 billion business worldwide in 2022, according to the Boston Consulting Group. But the industry is producing clothes at record volume. The Chinese fast-fashion company Shein, which sells clothing items, like tank tops, for as little as $5, recently surpassed Amazon as the most-downloaded app.
Gabriela Hearst, a designer who is the creative director of her namesake label and the large French brand Chloé, said unlimited growth is no longer an option. She said she told her chief executive that she didn't want to make Chloé the next billion-dollar brand.
"I don't find that sexy. I think it's not about building new kingdoms, it's about understanding how they can be restructured from within," she said.
On that front, she said, when she began working for Chloé in 2020, she learned about the importance of volume drivers — the lower-priced items such as sneakers and denim that pay the bills. She has been focusing on using lower-impact materials and methods that generate fewer emissions for best-selling items, such as making sneakers from recycled debris using low-waste production practices.
Céline Semaan, the chief executive of Slow Factory, a nonprofit that addresses climate justice and social inequity, said such rethinking of fabrics and waste is essential.
"We are encouraging designers to use waste as a material," she said. But she said she saw opportunity in other models, like design for disassembly, which involves breaking down unsold clothing to make new garments rather than burning them. Forcing the industry to use what it has, said Ms. Semaan, would give farming and fossil fuels a break.
Ms. Semaan said she takes designers to landfills to show them where many of their clothes end up. (Ms. Hearst said that she has always dreamed of taking grade schoolers to landfills to help shape the next generation.) While these visits often trigger design solutions, she said, it's harder to spark ideas for new economic models that move away from overproduction.
Some new business models, said Ms. Semaan, incorporate virtual products and "experiences that brands are designing that are not necessarily done to the link of a specific product." But it has not yet been proven that selling accessories for avatars can support a company.
Tracy Reese, the founder and creative director of the responsibly designed label Hope for Flowers, said that change is difficult for businesses focused on profits.
"I think the bottom line is the bottom line. How do you make the business case for working more responsibly and for producing less?" she asked.
Growth is not a bad word, countered Laurent Claquin, Americas president of the luxury group Kering, which owns such fashion houses as Saint Laurent, Gucci and Bottega Veneta — especially for a company that employs 45,000 people. "You can have responsible and sustainable growth. Growth doesn't mean more products always. It could be product that is better quality with better material, better design, which also means better prices."
He said Bottega Veneta recently announced a certificate of craft, a lifetime warranty program allowing purchasers to bring their handbags in to be refreshed and repaired.
Giving consumers the same dopamine hit from repairing their items as from buying new ones could help change patterns of overconsumption. But how to make repair desirable? "Once you repair something, you customize it; you make it unique," said Ms. Semaan. Torn jeans, sent back to the designer to be patched, are suddenly couture.
Ms. Reese said she teaches people in her hometown, Detroit, to mend clothes as a way of reconnecting them to the process of making garments. "We need to elevate craft. We need to make things for ourselves so that we can value them" and the people who make them.
The task force members embraced a suggestion that brands sponsor home economics classes and be more transparent with consumers about how things are made. Ms. Reese said she believed people would be "deeply appalled to understand what their choices mean when you buy this $20 item and this person made six cents."
Educating consumers and the industry about the impact of their choices was a common theme, with an emphasis on starting with schoolchildren rather than Gen Z.
Wisdom Kaye, a model with over 10 million social media followers, said influencers like himself can do a better job of encouraging teenage consumers to buy less and to embrace vintage, because the cyclical nature of fashion means that a lot of what brands make today has already been made.
Maxine Bédat, the author of "Unraveled: The Life and Death of a Garment" and the director of the New Standards Institute, said that education and culture can ultimately drive a shift in policy. While innovation and new business models are central to the industry, she said, only legislation will fundamentally change the system.
"So much of this is like, 'Who starts?'" she said. "And we are all interconnected. But there is a way that you can educate to empower people to say that we can change the system by changing the laws."
Takeaways
The fashion industry must shift its business model to focus on profitability rather than just exponential growth.
The conversation around the second life of clothes must be reframed to incorporate the idea that customizing an older garment through repair makes it couture.
Younger consumers need to be part of the education process, while older customers can be enlisted to lobby for legislation to regulate the environmental impact of fashion companies.
Christine Muhlke is a former New York Times Magazine food editor. Her most recent books are "Wine Simple" and "Signature Dishes That Matter."