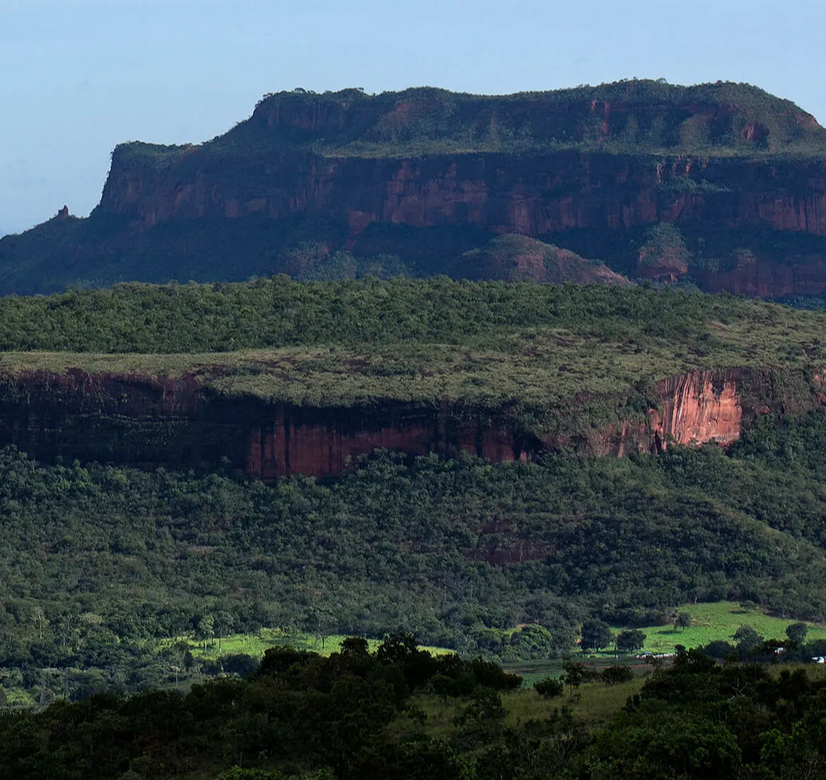 Fashion brands have long avoided accountability for leather's destructive impact through deforestation. Today, 17 global companies — from Reformation, Mango and H&M to Kering, Tapestry and Capri Holdings — have joined a new deforestation-free leather commitment, led by non-profits Textile Exchange and Leather Working Group (LWG). Will it make a difference?
'The Deforestation-Free Call to Action for Leather' lays out guidance for brands to end deforestation and natural land conversion linked to leather sourcing, created in consultation with the World Wide Fund for Nature (WWF), the National Wildlife Federation (NWF), and the Accountability Framework initiative (AFi). Its goals are ambitious: to make sure the responsibility to invest in protecting forests and ecosystems is shared across the supply chain; to increase industry access to deforestation-free and conversion-free cattle farms; to improve transparency and reporting; and to reward the brands and suppliers leading change.
The case for addressing deforestation in leather supply chains is stark. "The leather supply chain is a clear driver of both deforestation and forest degradation, which is impacting the health of forest ecosystems, and with that, our climate stability and biodiversity. You can see that across multiple landscapes, particularly countries like Brazil and Australia," says Nicole Rycroft, founder and executive director of environmental non-profit Canopy. "We're in a turnaround decade for the climate crisis, which requires all hands on deck. We need collective actions like this that are focused on moving from risk assessments to driving systems change."
Brand partners have committed to a series of targets, and will report their progress to Textile Exchange and LWG annually. The other signatories are Adidas, American Eagle Outfitters, Allsaints, Arezzo & Co, BMW Group, Icebug, Marks & Spencer, Puma, Range Revolution, Roots, and RM Williams.
The ultimate deadline is 2030, in line with Textile Exchange's Climate+ strategy, and the Paris Climate Agreement. The requirements for signatories include mapping supply chains to the slaughterhouse level and identifying risks, making financial investments to increase the supply of deforestation-free and conversion-free leather at the farm level, and implementing traceability systems to track and verify the leather. The commitments also cover human rights, with a special mention given to recognising and protecting the rights of Indigenous people and local communities.
The initiative will be split into two phases, says Anne Gillespie, impact acceleration director at Textile Exchange. Phase one is about preparing supply chains for this change, and phase two is when brands actually start sourcing deforestation-free leather. "We are dealing with complex, global issues here, and everyone has a part to play," she says.
It won't be an easy switch. Leather supply chains are long and difficult to navigate, says Gillespie, often spanning not only multiple industries, but also conflicting regulations and attitudes towards best practice, which can vary by region. In theory, brands uncovering the source of their leather and building more direct supplier relationships will improve transparency and traceability, but verification will still cause tension, as it does for all commodities and material sources, she says.
"Cattle move from farm to farm, they're not crops that sit in the ground and then get harvested from the same spot. We have to track the risks of deforestation and human rights at every step of the supply chain and connect those movements — that will be a big focus in phase two."
For the brands involved, the call to action chimes with their existing sustainability goals, especially around biodiversity. Puma has committed to reduce the loss of biodiversity and habitat destruction caused by its production processes and material sourcing by 2025. Brazilian brand Arezzo & Co started its internal leather traceability project in 2022, and has signed the call to action with the hope of scaling its efforts in partnership with larger, global brands. While activists have tried to raise the alarm bells on deforestation-linked leather before, this gathering of brands marks a shift of pace, says Canopy's Rycroft.
"As Kering supply chains rely heavily on cattle farming and healthy natural ecosystems, we feel it is our responsibility to drive towards better farming practices," says Marie-Claire Daveu, chief sustainability officer at luxury group Kering, parent company of brands including Gucci and Balenciaga. The aim is to "collaboratively raise the bar" in leather sourcing through transparency and traceability, she adds.
Navigating non-compliance
In line with the incoming EU Deforestation Regulation, Textile Exchange and LWG have set a cut-off date of 31 December 2020, meaning that any farms that engaged in deforestation after this point will be deemed non-compliant. For Rycroft, this date is too late. "Canopy's work on viscose supply chains uses a 1994 cut-off date, because a lot of deforestation has happened since the turn of the century that has significantly contributed to the climate stress we're experiencing now," she explains. "If an area has been deforested since 1994, it flags the need for additional due diligence and for operators in that area to conserve and restore high-carbon and biodiverse areas within their operational land-base."
"It's important to look at the definitions we use with these cut-off dates too," she continues. "Deforestation is a technical definition, which has allowed many farmers to get away with these practices because — for example — deforestation tends to be applied more to the tropics. What's agenda-setting about the EU regulation is that it recognises deforestation and forest degradation side-by-side. We put the emphasis on keeping high-carbon forests standing, and in some instances, restoring them."
Read more – Vogue Business