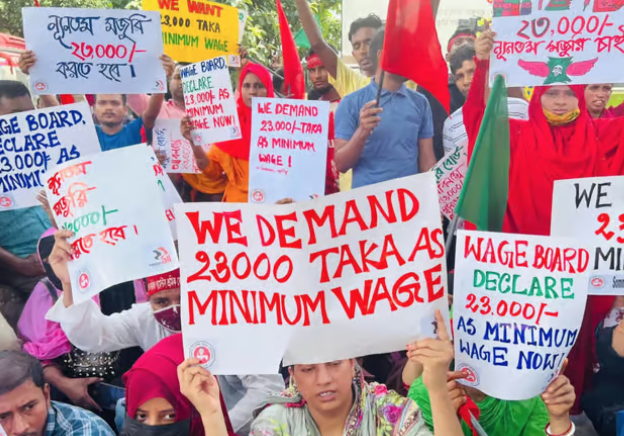 The impoverished South Asian country has been rocked in recent weeks by the worst social unrest in a decade, with tens of thousands of workers clashing with police to demand a near-tripling of the minimum wage to 23,000 takas (208 euros).
Jalal Uddin, a 42-year-old textile worker who was injured in clashes with police earlier this month in Gazipur, north of the capital Dhaka, died of his injuries on Saturday, police said. His death brings to four the number of workers killed since protests began last month, according to a police count.
"He died at Dhaka Medical College hospital" after being injured "during a protest several days ago", Bacchu Mia, a police inspector, told AFP. Uddin's brother-in-law, Rezaul Karim, told reporters that the worker had been shot with a shotgun and had been taken to Dhaka for treatment.
This week, the minimum wage committee for the textile sector proposed a 56.25% increase in the basic monthly wage for the sector's four million workers, taking it to 12,500 takas (104 euros), an amount deemed "ridiculous" and immediately rejected by the unions. Since this offer, protests have intensified and at least 70 factories have been damaged.
New protests were reported on Sunday morning in the Mirpur district, north of Dhaka, where over 10,000 workers walked off the job while at least nine factories were closed for the day. "About 500 of these workers tried to block a road (…). There was no violence," police inspector Masud Sarker told AFP.
Bangladesh's 3,500 garment factories account for around 85% of the country's $55 billion annual exports, and supply many of the world's leading brands, including Levi's, Zara and H&M. But working conditions for many of the sector's four million workers, the vast majority of whom are women, are dire (AFP).
Read more – FASHION UNITED