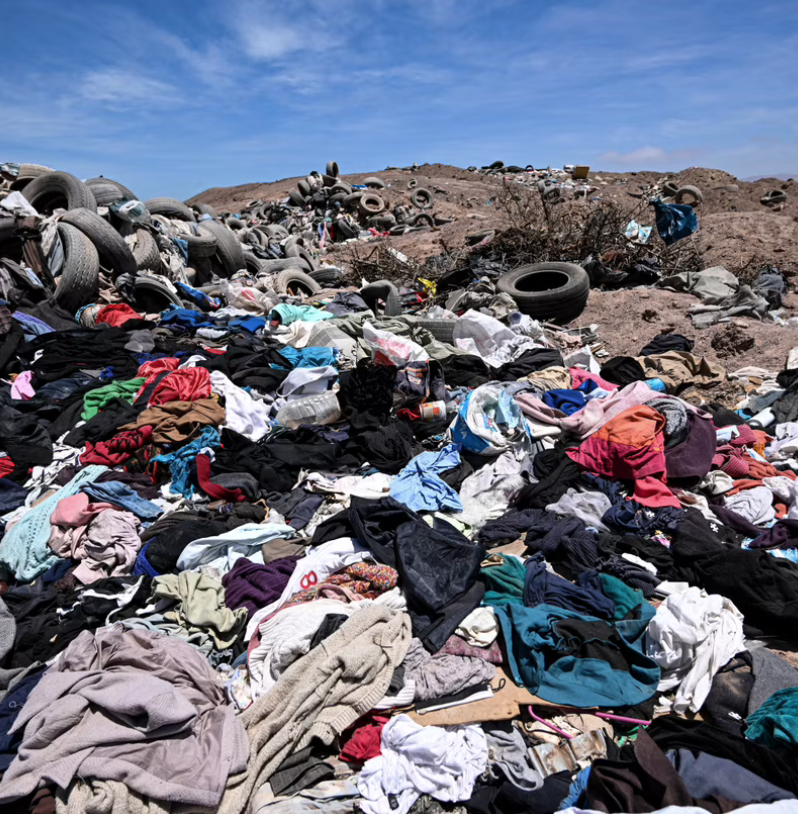 Tons of clothes litter the arid hillsides surrounding the municipality of Alto Hospicio in the Tarapaca region, some 1,800 km north of Santiago. In the nearby town of Iquique, thousands of boneless cars from the United States, Japan and Korea are piled up, while in other areas of the 100,000-square-kilometre desert, the landscape is disfigured by hundreds of tyres.
Chile has specialised in the second-hand clothing trade for more than 40 years, between clothes thrown away by consumers, destocking and good works from all over the world. According to Chilean customs, in 2021 some 46,285 tonnes of used clothing entered the country. The clothes, like the cars, enter through the free zone in the port of Iquique. They are destined for the Chilean second-hand market or for other Latin American countries.
Most cars are re-exported to Peru, Bolivia or Paraguay. However, many end up on the streets of Iquique or on the surrounding hillsides.
More than half of the clothes and shoes produced, at low cost and on the assembly line, mainly in Asia, end up scattered in the desert because of the congestion of the circuit.
These dumps are regularly burnt down to reduce the nuisance, but this causes thick clouds of toxic fumes. "These fires are very toxic, because what emanates from them is burnt plastic," said Paulín Silva, a lawyer who in March filed a complaint against the Chilean state with a court dedicated to environmental issues.
"Environmental risk
A native of Iquique, Silva denounces the state's passivity in the face of these dumps, which she says constitute "an environmental risk" and "a danger to human health". "It is unscrupulous people from all over the world who come here to dump their waste," Patricio Ferreira, the mayor of Alto Hospicio, one of Chile's poorest cities, told AFP.
"We cleaned up once and they pollute us in another area," he complained, saying he was powerless to deal with the problem. "We feel abandoned. We feel that our land is being sacrificed," he says indignantly.
Although it is considered one of the driest deserts in the world – with rainfall of less than 20 millimetres a year in some areas – the Atacama is home to a unique ecosystem. In its driest part, near the coastal town of Antofagasta, scientists, including Chilean biologist Cristina Dorador, have discovered extreme forms of life: micro-organisms capable of living almost without water or nutrients despite extreme solar radiation. These micro-organisms could hold the secrets of evolution and survival on Earth, but also on other planets, they believe.
A "very fragile" ecosystem
In some areas near the coast, the haze allows vegetation and vertebrate animals to develop, explains Pablo Guerrero, professor of botany at the University of Concepcion, and researcher at the Institute of Ecology and Biodiversity (IEB).
"The existence of life in these places is, in a way, a fortuitous event," he says, adding that this is a region where the ecosystem is "very fragile". "Any change or decrease in the rainfall and haze regime has immediate consequences for the species that live there. Dozens of species of mauve-coloured flowers bloom when rainfall is above average. Their seeds, buried under the sand, can survive for decades waiting for a minimum of water to germinate and then flower.
However, due to climate change, but also to pollution and the advance of cities, some cactus species have disappeared. "There are cactus species that are considered extinct. Unfortunately, this is a phenomenon that has been observed on a large scale and with systematic deterioration in recent years," Guerrero says.
The vast majority of people see the Atacama Desert as nothing more than "bare hills" or the "site of mining operations", laments Carmen Serrano, president of the environmental organisation "Raices Endémicas". This vast expanse, sometimes rocky, sometimes sandy, is home to the world's largest copper mines, as well as lithium mines, both of which consume a lot of groundwater. (AFP)