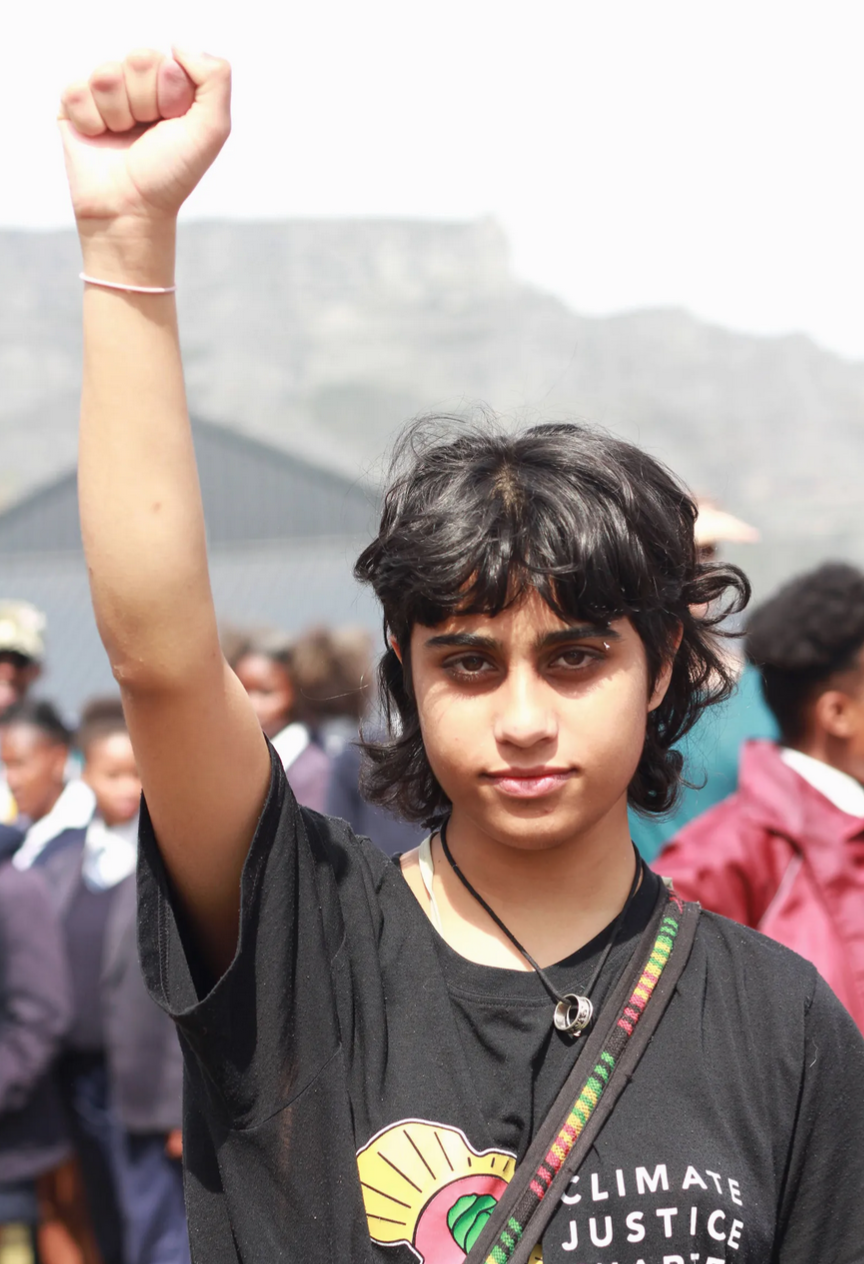 This year's annual UN climate summit, COP27, has left sustainable fashion experts with more questions than answers.
Experts agree that there are learnings for fashion's global supply chain, especially from the conversations around climate finance, which focused on loss and damage (the destructive impacts of climate change that cannot be avoided either by mitigation or adaptation). This could be a key tool in addressing fashion's colonial past, and the outsized impact climate change is having in the Global South.
More still were concerned by the host country's lack of inclusivity, with many boycotting the event altogether. "COP27 failed before it began, because critical marginalised voices were discriminated against due to the host country's regime," says civic artist and co-founder of youth organisation Waic Up, Elijah McKenzie-Jackson. "In a conference set with the purpose of creating space for future thinking to stop the climate emergency, LGBTQ+ people, women and activists have been silenced and suppressed," adds climate justice activist Jerome Foster II, the US's youngest ever White House Advisor. (The UN did not comment in response to these criticisms by deadline.)
Still, organisers were cautiously optimistic. "The first challenge is recognising the complex geopolitical environment that currently exists and the need to create a safe political space inside the process," executive secretary for UN's Framework Convention on Climate Change (UNFCCC) Simon Steill said in the opening press conference. "COP21 in Paris told us what needed to be done, COP26 in Glasgow told us how to do it, and COP27 in Sharm El Sheikh is about moving from words to action." COP27 was dubbed "Africa's COP" and "the implementation COP", reflecting the UN's hopes that the summit would finally address global inequalities and move from commitments to actions. Experts say while it didn't quite stack up, there's reason for hope.
Fashion's latest fixes
French luxury conglomerate LVMH kicked off the conference by unveiling plans to work with King Charles III's Circular Bioeconomy Alliance to build a regenerative agroforestry system, hoping to couple cotton production with biodiversity restoration in Africa. According to LVMH environmental development director Hélène Valade, this builds on the group's work implementing regenerative agriculture in its Turkish supply chain.
Elsewhere, the UNFCCC Fashion Industry Charter for Climate Action and the Sustainable Apparel Coalition — whose prize sustainability tool, the Higg Index, has been dogged by greenwashing accusations this year — issued a call for feedback on new guidance for measuring Scope 3 emissions.
The Global Fashion Agenda, which runs an annual sustainable fashion conference in Copenhagen and hosted three events at COP27, launched the Fashion Industry Target Consultation with the UN Environment Programme (UNEP), hoping to bring industry stakeholders together to share insights and accelerate progress through an online survey and regional workshops from Latin America and the Caribbean to Africa and Asia Pacific. This is a promising step, but only if it accelerates action, says Namrata Sandhu, CEO and co-founder of Vaayu, a software platform that helps retailers cut carbon emissions. "Aligning priorities is the first step to tangible change, but the crucial part is ensuring that brands and retailers have the right tools in order to meet them and drive concrete actions."
Environmental non-profit Canopy launched a brand and producer coalition to protect ancient and endangered forests from fibre extraction, which saw H&M, Zara owner Inditex, Stella McCartney, and Gucci owner Kering commit to purchase over half a million tonnes of low-carbon, low-footprint alternative fibres for fashion textiles and paper packaging. "That type of market signal derisks investment in the mills that need to be built to produce these next generation solutions," says Canopy founder and executive director Nicole Rycroft. "Keeping forests intact and out of industry supply chains will need to be a key goal if we are to protect at least 30-50 per cent of the world's forests — and stabilise our climate — by the end of the decade."
For Kerry Bannigan, executive director of the Fashion Impact Fund and founder of the UN's Conscious Fashion Campaign, regenerative agriculture was a central theme. This was the focus of the Fashion Impact Fund's panel with model-turned-activist Arizona Muse — who debuted a short film on water for her charity, Dirt — and non-profit Earth Day, which hosts a day of political action and awareness each year. "The solutions exist, the sector needs to critically implement them for the advancement of climate action," says Bannigan.
Fashion's role in COP was downsized this year according to those on the ground. "Fashion hasn't been a big focus this time," says journalist Sophia Li. "Gabriela Hearst was here to bring awareness to fusion energy, but I haven't seen many other fashion players." Others say their conversations about fashion's impact were met with surprise. "That's worrying, because if we haven't got mainstream awareness, we are way off track," says Samata Pattinson, CEO of RCGD Global, best known for its sustainable design campaign, Red Carpet Green Dress, for the Oscars.
Rachel Kitchin, corporate climate campaigner for environmental organisation Stand.Earth, pointed to the lack of progress on last year's commitments. "At COP26 the Fashion Industry Charter took a step forward by committing the majority of its 130 brands to halve their massive supply chain emissions and cut out coal by 2030," she explains. "A year later, most major fashion brands arrived with their emissions higher and very little to show in the way of progress phasing out fossil fuels."
Climate action has centred around the realisation of the Paris Climate Agreement, which hopes to limit global warming to 1.5°C by 2030, to avoid irreversible climate catastrophe. "COP27 has shown us how very real the possibility of missing 1.5°C is looking," adds sustainability consultant and writer Rachel Arthur. "We need to stop seeing 1.5°C as a goal, start looking at it as a limit, and recognise that we're at risk of seriously breaching it by 2030. That means every 0.1°C between now and then counts if we want to avert irreversible climate damage and chaos worldwide."
Reasons for hope
Despite the challenges, COP27 showed some signs of progress.
The new standards for net zero that the UN's High Level Expert Group published at COP27 were a highlight, says Kitchin. "With this, brands would no longer be able to rely on carbon offsets to make themselves look 'clean', or set a date so far in the future it's some other CEO's problem."
A welcome addition to the agenda was climate finance — and specifically loss and damage — which has been high on activist agendas for decades, but missing from previous COP summits due to pressure from wealthier nations. In the run-up to COP27, UN secretary-general António Guterres said loss and damage is a "fundamental question of climate justice, international solidarity and trust" — and that "polluters must pay".