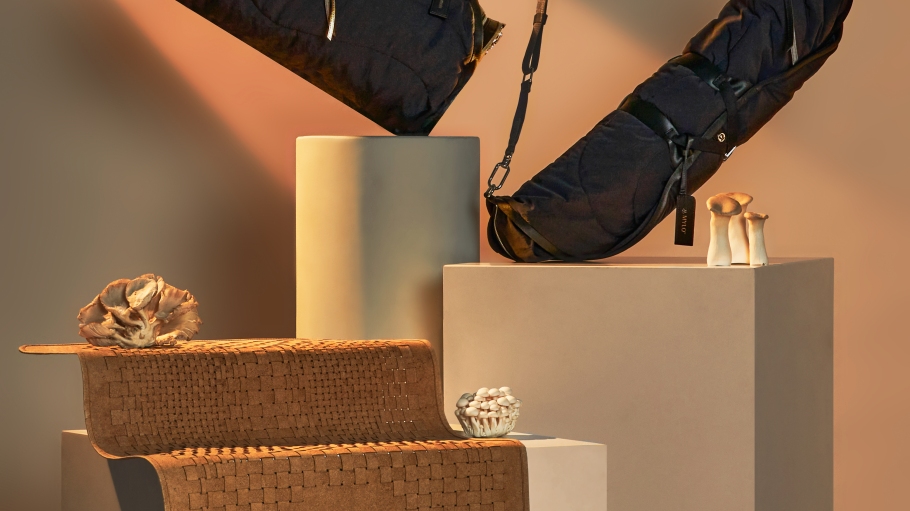 Next-gen materials are receiving a lot of buzz.
Commonly, next-gen materials take inspiration from nature but are tailored with modern technologies for multi-industry use, be it in apparel or medical fields. Material can be grown to shape like fungi or fermented to appear as silk spun by spiders, in the case of some of the top funding recipients for innovative materials. Next-gen materials share an aim to cut the environmental footprint of existing textiles (particularly those like virgin polyester) — reducing carbon footprint, water and chemical use.
While many materials support next-gen values on animal welfare and environmental good, not all next-gen materials are the same. Here, WWD presents an A-Z catalogue of some of the latest materials on the market that are prioritizing sustainability.
AirCarbon is made by Huntington Beach-based Newlight Technologies, and has collaborated with the likes Nike for its material that sucks carbon from the air.
The secret to "AirCarbon" — a material 10 years in development — is found in nature: methane-loving micro-organisms. AirCarbon is certified carbon-negative by SCS Global Services, resulting in a net reduction in carbon dioxide emissions in the atmosphere through production. It subs out both supple and firm plastic for uses in eyewear, wallets and bags (and is already being used in each of these ways for Newlight's own brand "Covalent").
AirMycelium is a mycelium material (mushroom root) from New York-based innovation firm Ecovative. The material has a production capacity of 100,000 pounds a year and is biodegradable over time — with its raw mycelium materials being at-home compostable in soil.
B-Silk is a proprietary clean beauty breakthrough from the team at Bolt Threads. It is bio-based, biodegradable, vegan and cruelty-free and is used as a replacement for ingredients like silicone and keratin in skin and hair care products. Eighteen B, Bolt Thread's own brand, is the first to demonstrate its use.
BioFiber is made entirely from food crop residues from producer Agraloop Bio-Refinery. It is meant to replace high-quality knits and woven fabrics. The Agraloop processes waste from various food and medicine crops including oilseed hemp/flax, CBD hemp, banana and pineapple, while incentivizing the waste among communities in need. BioFiber is blended with other natural staple fibers to produce a range of ring-spun and open-end yarns.
BioSteel is a biotechnologically produced high-performance version of spider silk which debuted in 2015. It is produced by German biotech company AMSilk and has been used notably in the upper material in Adidas' Futurecraft Biofabric sneakers. Properties include being 15 percent lighter than conventional synthetics as well as being completely biodegradable. The material has been certified by the Hohenstein Institute and the SGS Institut Fresenius.
C-Fiber is a blend of eucalyptus pulp and seaweed powder from material innovation firm Pangaia. The material is biodegradable in both a natural and industrial environment and is certified by German research institute TITK (Thüringisches Institut für Textil-und Kunststoff-Forschung e.V.) for biodegradability and has the "OK Compost" certificate from Austrian certification body Vinçotte.
Read the full article on WWD