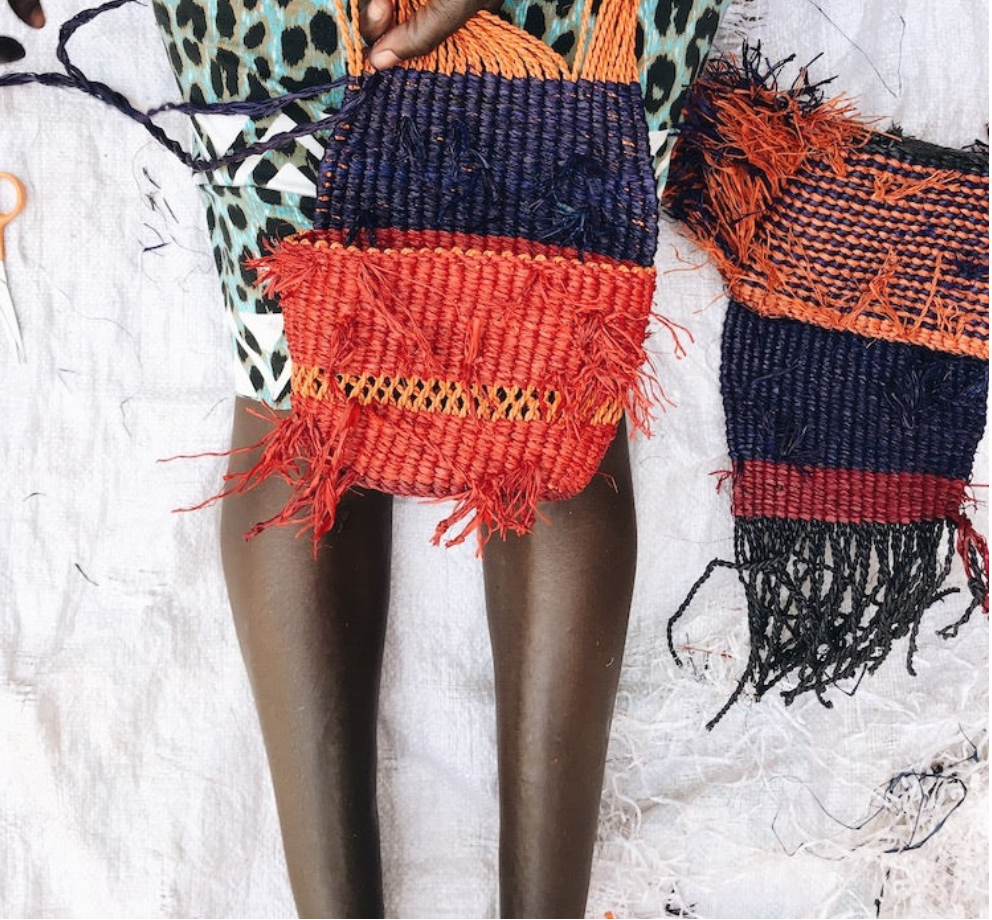 Akosua Afriyie-Kumi's handbag brand AAKS has scored coveted space on the floors of major department stores like Nordstrom and Bloomingdale's. But for the Ghanaian designer, the label's real achievement is its work to preserve and promote a 1,000-year-old weaving tradition.
The brand's hand-woven Raffia bags are painstakingly pieced together by female artisans in Ghanaian villages. The straw-like material is sourced from local farmers who strip leaves from raffia palm trees and then dry, twist and dye the material by hand. The brand provides training for weavers and pays above market rate to ensure local artisans are able to earn a living from their work. Afriyie-Kumi sees her role as both supporting traditional craft and promoting it on an international stage.
"It is really important to me as a business to show my culture," Afriyie-Kumi said. "Now there is a spotlight on Africa for us to share what we do."
AAKS' efforts are part of a wider movement driven by a diverse young generation of designers with ambitions to embed sustainability into the way they do business. In addition to emphasising eco-conscious design and production, and social welfare in their supply chains, many are also drawing on their heritage to seek out and support indigenous artisans and craft — communities that are also often most at risk from climate change.
This form of cultural sustainability reflects growing mindfulness of fashion's history of appropriation. Though skilled artisans in countries like India are responsible for some of the most exquisite detailing in fashion's couture creations, their work has been routinely underpaid, undervalued and uncredited by the fashion industry, which has instead promoted a western-centric view of what should be considered luxurious.
But that approach is attracting growing criticism, particularly as the pandemic and rise of the Black Lives Matter movement have amplified awareness of racial and social justice issues among consumers and fashion's young creative class. Wider awareness is seeping into mainstream fashion too.
Dior creative director Maria Grazia Chiuri draped the backdrop of the brand's couture show last month in intricate embroideries sewn over months by women in the Chanakya School of Craft in Mumbai. Some of fashion's most prestigious prizes over the last year have featured designers like Sindiso Khumalo and Kenneth Ize, whose work supports indigenous textile craft.
"Consumers and brands need to understand the value of these processes," said Monica Moisin, a fashion lawyer and founder of the Cultural Intellectual Property Rights Initiative (CIPRI), an organisation that promotes and protects traditional craft globally. The benefits are multi-faceted, adding value to products that consumers view as more sustainable while also creating a more ethical, inclusive, and equitable business model for the industry, Moisin said.
Slow Fashion
Working with traditional techniques can be a challenge for young brands. The process of hand-crafting is slow and inconsistent. That's hard to reconcile with fashion's fast-paced, modern business model.
Each AAKS bag takes about a week to produce — a point of tension with wholesale partners, who expect their orders to be filled much faster. "If the store places an order, let's say for 500 products, we are looking at about four months to fill this," Afriyie-Kumi said.
Angel Chang, whose womenswear line is handmade by indigenous artisans in rural Guizhou, China, said each pair of trousers for her brand takes 24 hours to sew, compared to the 18 minutes it might take for a factory producing for a mass-market brand.
Working this way means that brands are limited in how much they can produce and prices are high. Chang's ready-to-wear line starts at upwards of $400 for a hand-woven cotton shirt. It also took years to train local artisans to standardise their production process so that the quality and feel of each garment is consistent. Her goal is for consumers to value the traditional techniques she's working with, in the same way they do the work of Italian and French luxury ateliers.