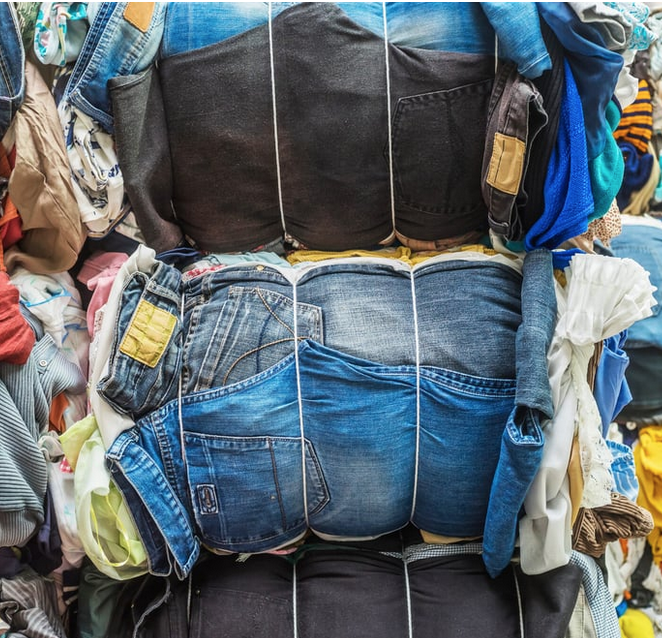 More than a quarter of clothes in UK wardrobes have not been worn for a year, a new survey shows.

Environmental group WRAP says its findings show that the fashion industry must look to become more sustainable.

It's calling on brands to implement more circular business models like clothes-rental schemes and upcycling of used clothing.

The UN says the fashion industry produces up to 8% of global carbon emissions and that textile workers are often poorly paid and forced to work long hours.
When most people buy new clothes, the impact this has on the planet is something they may not think about. However the impact is significant.
Making just one pair of jeans requires 2,000 gallons of water, and every second a rubbish truck of textiles is burned or buried in a landfill site, the UN reports. It also says that workers in the global textile industry "are often paid derisory wages and forced to work long hours in appalling conditions".
UK clothes-shopping habits revealed
The findings by the environmental group WRAP are based on more than 2,000 interviews in November 2021 with UK citizens who purchased clothing for themselves at least once a year.
The survey also found that 23% of respondents said they regularly buy clothing with the intention of using it for only a short period of time.
WRAP says this is reflected in the amount of unworn items in wardrobes, more than a quarter of which haven't been worn for at least a year. It estimates that the UK's wardrobes contain 118 clothing items per person.
How aware are consumers of circular business models?
1. Subscription: Shoppers can select items of clothing and are charged a fixed fee for a defined period that will be significantly cheaper than buying the clothes new. At the end of the agreement, the items can be purchased or returned.
2. Rental: Items are rented individually for a short period and then must be returned. They will then be cleaned ready for the next customer.
3. Pre-loved: These pre-owned clothes are given a quality check to ensure they are in good condition, as well as authentic. They are then resold for less than the standard retail price.
4. Upcycled: Clothing brands can sell used clothing that has been transformed into something new.
5. Repair: Brands can offer a repair service to encourage customers to avoid having to replace clothing items, regardless of how much time has passed since they were purchased.
The survey found that recognition, as well as levels of use of circular business models in the UK are low. It is highest for pre-owned clothing, which 40% of respondents are aware of and 19% have bought. However, it is lowest for the repair and subscription models, which are recognized by 20% and 23% of respondents, respectively, and used by just 1 in 10.
However the WRAP report says there is a potential mainstream market for all the CBMs. About 40% of respondents say they are likely to use a subscription service and 58% a repair service.
"Younger citizens and higher frequency/higher spend shoppers are the most likely to have already engaged with the CBMs and the groups most receptive in future," WRAP notes.
Making the fashion industry more sustainable
There is an opportunity to increase the sustainability of the industry, the report says, noting that the longevity of clothing items has increased since 2013. Retailers and brands should design for circularity, and create new shopping habits by making consumers aware of the alternatives to buying new, it adds.
In the US, nonprofit organization Goodwill has launched a shopping venture that will make around 100,000 donated clothing items available to buy online. It says sale revenues will help fund its community job-creation programmes, recycling schemes and keep unwanted goods out of landfills.