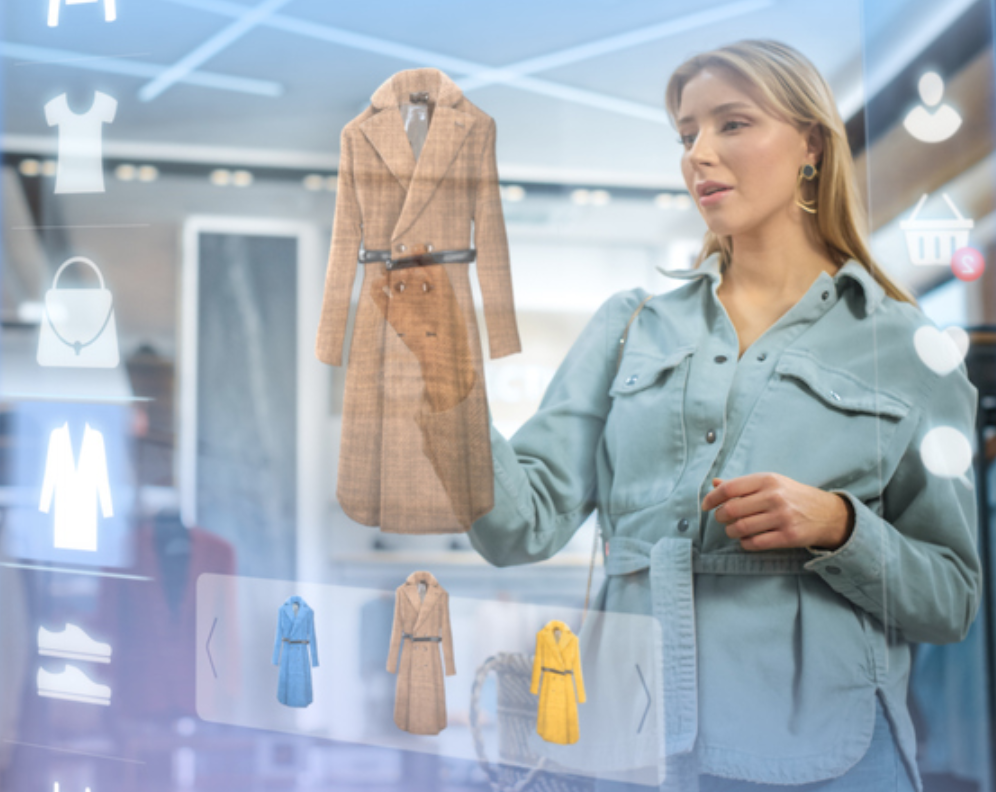 In an effort to please clients and gain their trust, the fashion industry is paying attention and implementing this new norm. It is necessary to employ new technological advancements to make the shift to sustainability in order to advance the environmental movement. Technology is frequently a waste accelerator, therefore it may seem odd that technology is essential to fashion being more sustainable. In actuality, there is a symbiotic interaction between the two. Just a few examples of technology in sustainable fashion include measuring water and energy consumption, 3D and AI design, and data analytics utilized for production and collection management. The entire production to end-user consuming cycle, from the early phases of material sourcing to the late stages of delivery, packaging, and user feedback, can be automated with technology.
Technology developments like virtual reality, automation, and artificial intelligence have a significant impact on the worldwide fashion industry. Fashion industry players are making full use of emerging technologies. Along with supporting the expanding environmental trends, they seek to be digitally first, increase assortment diversity, and be digitally first. This is how technology is changing fashion.
Faster Trend Identification for Fashion Brands using AI
A time-consuming operation prone to human error is gathering, evaluating, and putting into practice mountains of industry data. Tools powered by AI are especially useful in this situation. AI synthesizes trends and procedures automatically. Greater data analysis speeds than humans are possible with them. They most crucially urge you to utilize this information rather than having it sit on your servers and gathering dust. You may reduce overproduction and respond to trends faster by recognising market developments and consumer trends.
The Development of Eco-Friendly Fashion Brands
Customers' opinions of fashion firms have been impacted by the troubling environmental developments. Given that the fashion business is accountable for up to 10% of the world's carbon emissions, this is hardly shocking. Excessive textile waste is produced by fast fashion companies. There are 12.8 million tonnes of clothes in landfills. Customers have high standards for environmentally friendly items. Recent surveys show that 47% of consumers are looking for ethical and environmentally friendly fashion products. Fashion manufacturers are becoming more ecologically aware thanks to technological breakthroughs. The fashion sector may promote sustainability by using artificial intelligence. Designers can minimise overproduction and decrease the amount of returns with the correct data analytics tools.
Customer Experiences are Redefined by Augmented Reality
Augmented reality (AR) has been increasingly popular in the fashion sector in recent years. Replicating the experiences of internet buyers is its key objective. For instance, on the websites of fashion brands, shoppers cannot feel, touch, or try on the merchandise. Using augmented reality advances this technique. It increases client engagement and offers immersive shopping experiences. Customers can upload images and virtually test on beauty goods on this platform. They don't need to visit a physical store to make the right choice and purchase something. Technology Will Shape Fashion in the Future Almost every area of the fashion industry is impacted by technology, including marketing, customer service, and inventory management. It aids in the delivery of smooth and customer-focused purchasing experiences by fashion brands. They will increase sales, foster client trust, and foster greater brand loyalty in this way.
Read more at: cxtoday